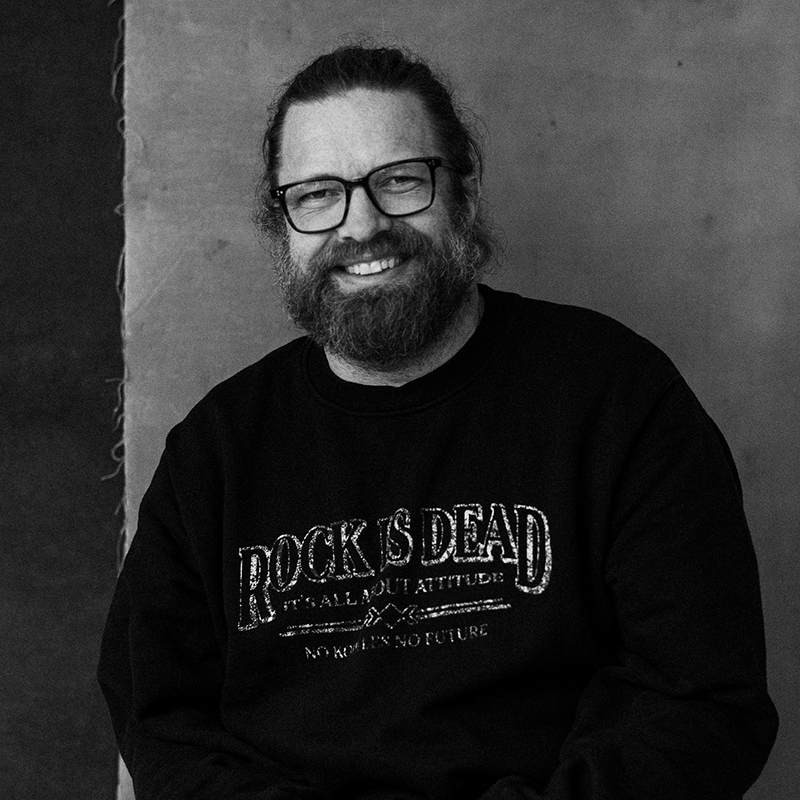 "Photography is not about the perfect picture for me. I am looking for the aesthetics of reality - in its real and unadorned form."
- Benedikt Ernst
Benedikt Ernst, born in Aachen in 1972, has been following his fascination for the world of photography for 20 years. Already with his first black-and-white portraits he creates the basis for his current style. As he actively begins to weave his interest in design, graphics and contemporary photography into his work, he perfects his now instantly recognizable signature. His photographs thrive on simple concentration and great aesthetics - the beauty of the moment in a special form of authenticity.
With his photographs, Benedikt Ernst depicts reality. He interprets moments of our time without alienating or evaluating them. In doing so, his artistic work is constantly evolving - today it moves quite naturally between contemporary black-and-white portrait photography, the artistic interpretation of architecture and manual collage.
Booking requests: INFO@BENEDIKTERNST.COM
"In der Fotografie geht es mir nicht um das perfekte Bild. Ich bin auf der Suche nach der Ästhetik der Wirklichkeit – in ihrer realen und ungeschönten Form."
– Benedikt Ernst


Benedikt Ernst, geboren 1972 in Aachen, folgt seit 20 Jahren seiner Faszination für die Welt der Fotografie. Schon mit seinen ersten schwarz-weißen Porträts schafft er die Basis für seinen heutigen Stil. Als er aktiv beginnt, sein Interesse für Design, Grafik und zeitgenössische Fotografie in seine Arbeiten zu verweben, perfektioniert er seine heute sofort erkennbare Handschrift. Seine Fotografien leben von schlichter Konzentration und großer Ästhetik – der Schönheit des Moments in einer besonderen Form der Authentizität.
Mit seinen Fotografien bildet Benedikt Ernst die Realität ab. Er interpretiert Augenblicke unserer Zeit, ohne diese zu verfremden oder zu bewerten. Dabei entwickelt sich seine künstlerische Arbeit stetig weiter – heute bewegt sie sich ganz selbstverständlich zwischen zeitgenössischer schwarz-weißen Porträt-Fotografie, der künstlerischen Interpretation der Architektur und der manuellen Collage.
Buchungsanfragen: INFO@BENEDIKTERNST.COM


SELECTED CLIENTS
MARLIES DEKKERS | MAX MAGAZIN | MEYER OPTIK GÖRLITZ | CHOPARD | HOTEL EXCELSIOR ERNST | ROLLS ROYCE | STYLUS MAGAZIN | TRUE RELIGION |
AUDI | KTHC STADION ROT WEISS KÖLN | REDKEN | ZEITUNGSVERLAG AACHEN | HOCHSCHULE FRESENIUS